My last day of the convention, I had a chance to walk around and see the show floor. I was taken back when I saw the display of a multi-colored felt rug in one of the booths. The vendor was a felt manufacturer out of Nepal, India. So they don't sell to the public. The rug was simply a display of how the felt could be used. I stoped and stared. I had fallen in love with virtually the
same thing at Anthrologie
. But a 4x6 is $600 and their 10x12 is $1,300. Apparently, it takes forever to ball up the felt and sew each indiviual piece together. I looked in to making my own wreath one time as seen
here
.
When I asked the lady standing close by, if I could buy the display, she didn't understand my English. She called another guy over who said he "would give it to me for next to nothing" because they were about to travel to their next show in Germany and shipping costs are high. When I asked how much he said $75. I didn't have any cash on me and I needed to return to our booth. But I couldn't stop thinking about it, so I went back and bartered him down to $60. He reminded me that it was worth much more but he didn't want to pay for its shipping cost. He was clearly frustrated a bit too. I can understand why though. Sometimes people get in the convention with a simple tax ID and they don't have a buisness to give them reason to be there. And they want to buy a piece of the booth. It's frustrating becuase we are there to move bulk from the warehouse. Not peazy things.
Thankfully, I got the rug. I lucked out. I'm still on my rug high, and I've had it for over 24 hours now.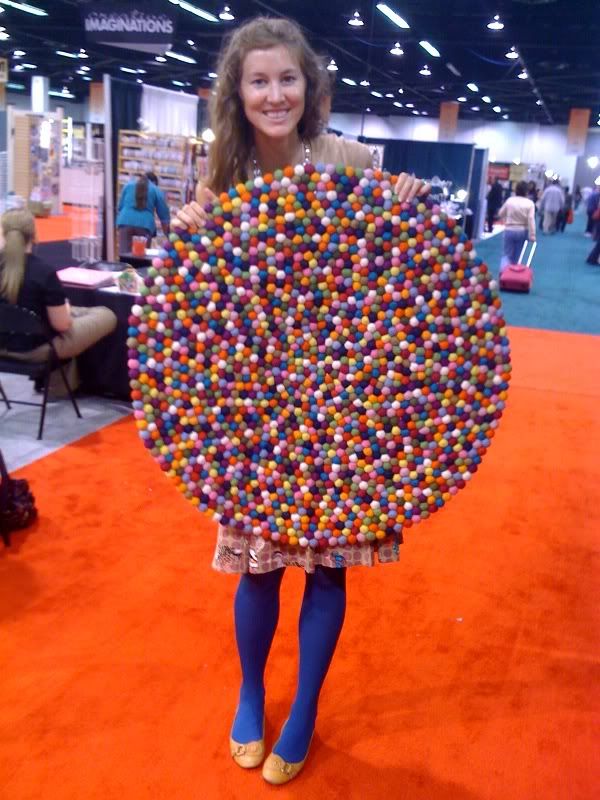 Bagmati is the manufacturer out of India that I bought my rug from. This pic above is one I got off their site. You can see the ladies hand sewing the product. It is neat to see how the lamb's wool is turned into this felt dye.

I'm so tall, I make the rug looked dwarfed above. It is bigger than it looks. I actually asked the guy if they supply the rug to Anthropologie. He said yes but it wasn't very convinving so I don't know. When I asked if I could potentially get another for a friend that was interested, he said he doesn't sell to the public and it was a display, but the third time I came around to the booth he said, if I let him know the demensions, he would have one made and bring it to the next show.
I pulled the following quote from their site. I'm humbled as I think of the work that went into it. "As the felt products are relatively simple to make, lot of under priviledged women have become involved in this industry. This in turn has helped in improving their living standard and empowered them."
This is the one from Antho.