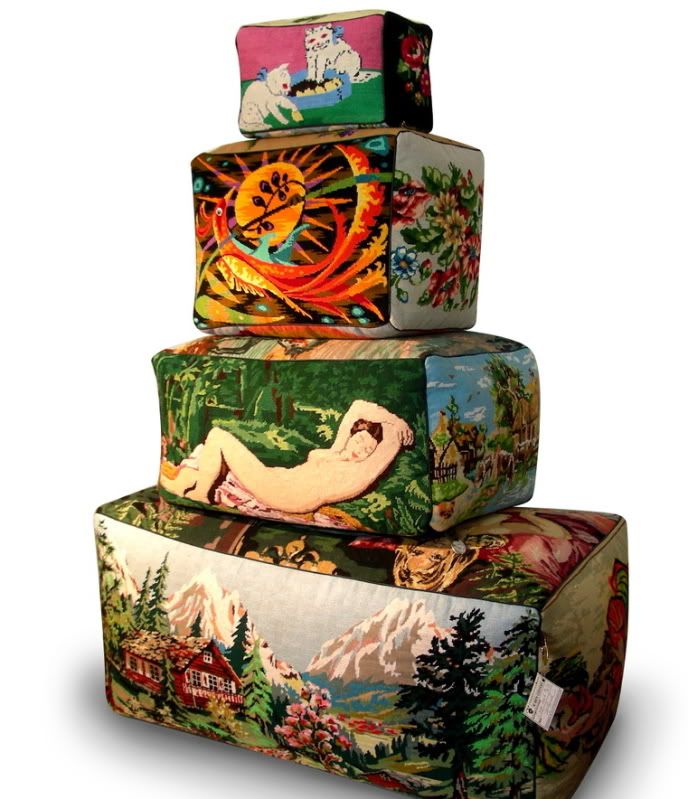 I
I fell in love with the most beautiful needlework ottoman a couple years ago when I was visiting a CA anthro. To my great happiness and surprise, it was still there a few weeks ago when I was there for work. I had completly forgotten about it until I saw it. And it was 50% off. I asked the manager about it; all she could tell me was that it was from France and no two pieces are alike. I knew it was special and I am so glad I got it. I got a great deal considering. After doing some research, I found out a bit more...
Frédérique
takes vintage tapestry pieces and pieces them together to make the most beautiful furniture and other home accessory designs. The size I ended up with and love the most is the Pouf. It is a great practical size of an ottoman but has a squish to it (a sturdy bing bag).
No two pieces are a like. The tapestry work is found far a wide in the most remote places even, preserved and applied to the decor. They try to peice themes together. *I love the theme of my recent find.*
I didn't even know the designer when I went to research. Once I figured it out, I had a great time exploring the different themes of the various needlework. I love needlework so much. I wonder what provoked the love becuase it always catches my eye and makes me look further.
Here are a few of the other Pouf's I found online. Enjoy!
At that age, my hair was that short and that blonde with the messy bangs.
I proped it up on my couch for the pic but it looks great right next to it I just don't want you to see our nasty green rug. ha!


Duck hunting dogs. Reminds me of my Poppa's dogs.