It was such a great feeling to run our first half marathon last weekend. We've never been much of distance runners. Andrew prefers playing any/all competitive sports and just being active. I'm more into yoga, hiking, weights, and workout classes. But when my friend
Dayna
mentioned she was going to do it and asked if anyone was in, I really wanted to be. A group of us jumped on board and held each other accountable to the commitment.
But I really had no interest in training without Andrew. We fully embrace have different interests, however, I work so much and we are apart enough with my work, that I didn't want to get home from work and then be off for my distance training alone. I still don't know if Andrew was just being supportive or if he had an inkling to do it as well; but we did it together.
It was such a good feeling to set a goal and work towards it together. I actually thought about that correlation a lot while I was running-- that same pattern is a lot like marriage.

There was a stretch in the race that was hard, no doubt. But I thought overall, the race was the easy part. I will attribute the mental toughness from bball for that. The long Saturday runs or late night runs after work were the mundane and exhausting part I thought.
The most we had ever ran before last weekend was 11 miles. The last few were tricky for sure. I had never run in a race before so I did a poor job pacing myself. I don't know what 'my pace' is so I ran too fast for my own strength in the start and was practically walking (but not quite) in the end. Plus, I didn't take all the people passing me so well at the start either and was trying to keep up.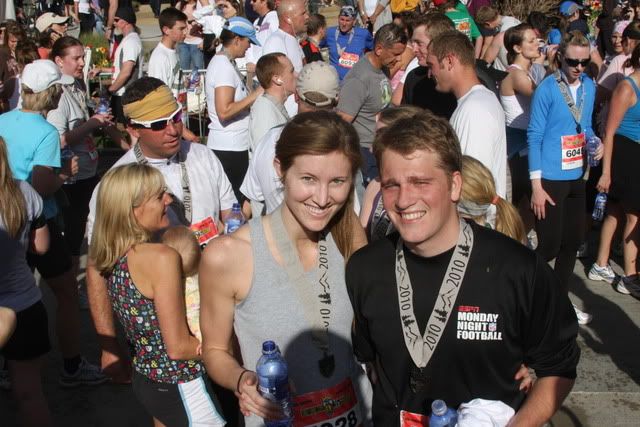 I barely missed breaking the 2 hour mark. I was right at 2 hours 1 minute, pacing a 9.15 minute mile.
Before the race.