I haven't had a chance to work out in about 10 days. When I got home I had worn my self out prior and was really sick. This was a big disappointment because working out is one of my favorite things to do when I get home. The gym here is amazing and I always feel like I'm in shape when I run simply because we have no altitude.
Yesterday I woke up feeling up to par so I wanted to challenge myself to a workout I was very familiar with in my day--stadiums. Hands down the best quick kick-butt work out there is. Since moving from here, I've been on the lookout for a similar situation. As great as our stadium is at BYU, doesn't compare. It's not old school enough. Let me explain...
This is the local college's football stadium. It used to be a beast to get in there early Saturday mornings. They would fence it off so I could keep a chair in the car to hop it or do the risky climb. I've noticed the past couple years though that they leave the fence open welcoming the challenge. This isn't my little secret by the way. Many groups here locally get after it.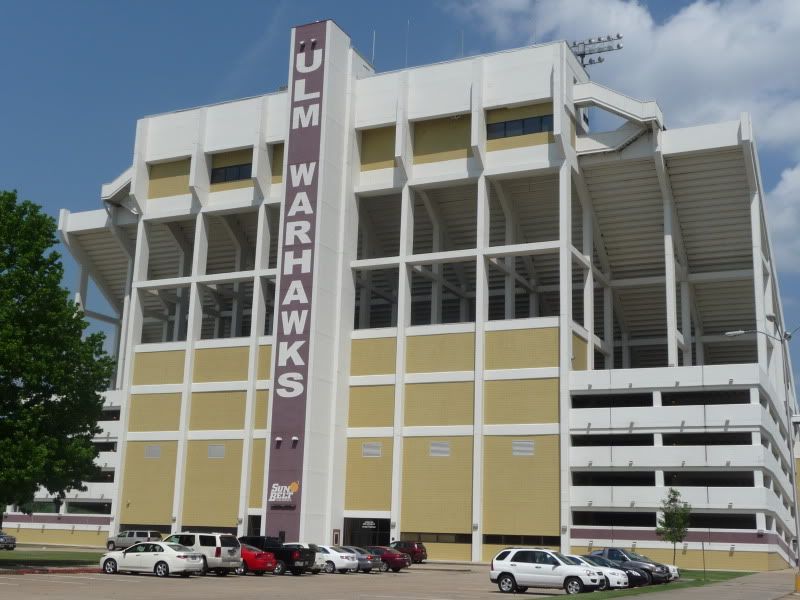 So why is this not like an other stadium workout? Well after a good warmup hike on the switchback ramp, you get to the top tier stadium that is very steep with over 100 steps. I was taught to walk one full leg of stairs and then run the next and so forth. The walk is every other step which is equivalent to a perfect lunge. That is where I'm disappointed in the BYU stadium. The every other step is too far apart and the individuals aren't steep enough. But here, the every other step walk is hardest for me. My legs are shot by the time I'm too the top. Then after a careful walk down catching your breath, you immediately turn around to run every step of the next. That kills the wind. By the end of the workout, I've hit the muscle and the wind.
I haven't run these stadiums since my bball days. I was anxious to see where I stood in relation to how in shape I was then. 15 stadiums (8 walk and 7 run) was the goal and the max. I was hoping to get at least 10 this time. At 6 my vision started caving in and I thought I wouldn't be able to make the treck down so I caved. I've always feared passing out up there and not being found for a while.
I got carried away with the description. You're a gem is you cared to keep reading!
This is the view from the top. This is for sure one of my happy places here at home. It's very quite and peaceful and triggers great refection.
And the view from stair #1. I'm determined to run at least 10 again one day.
Did I mention after yesterdays 6 that I can hardly walk today. I can hardly walk down our stairs. Sad!