Belgrade is really known for their nightlife. They have the cutest cobblestone roads where cafes stay open past midnight easily "until the last dinner." They have a great pedestrian walkway too that extends from the square which is just as busy at night as it is in the day. I couldn't have imagined it being this way. I think we returned from a great dinner and walking around 1:30 and their were people still out and about.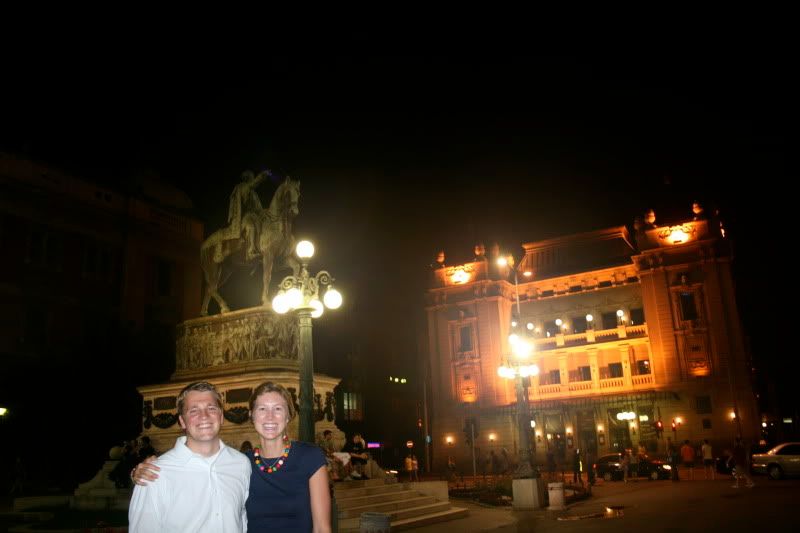 I'm a sucker for beautiful opera houses as seen in the background. This is the main square. I got this wooden necklace from a street vendor. I paid a couple bucks for it is all. It's extremely inexpensive here. Serbia wants to become apart of the EU but haven't quite yet. They have a few woe's they have to embrace in their history and ways that must change before they do so I was told. So they are left to the Din I think it is. I'm already forgetting but we get about 280 din to every dollar.
& a stork with babies! They are highly protected. They tend to lay their nest on the top of chimneys. They get the right away and then the home resident can't light a fire or do anything to destroy it. Sparrows hang out around their nests too to eat the insects. My dad hates sparrows because they would mess with his bird houses meant to attract the cardinals. I was happy to hear they were good for something...
All along the Danube River there are beautiful fortresses from old times. This clock tower is a 'must see' in Serbia because it is so old. Remember that I'm collecting some good basketball pics? This is perfect!
Their are fountains like this all over where one can stick their mouth under and get a drink. Andrew loves to splash himself with it. I'm a broken record... don't drink the water. Their is a reason that only bottled water is served at restaurants.