I went to Lafayette, LA this past weekend to attend Jason & Kathryn's wedding. Jason has been the dearest friend since junior high. He married an amazing girl who I look forward to getting to know better.
The priest presiding over the mass married Kat's parents too. The mass was beautiful...
The other groomsmen's are cut off in the photo. Sorry.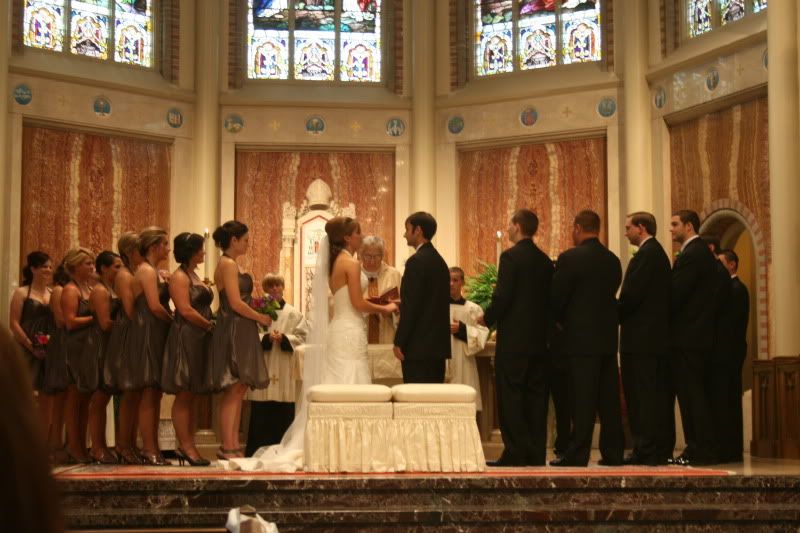 I loved the grey and the pockets on the bridesmaid's dresses were fun for dancing.
It was great spending the weekend with Jennifer. I was so tired, I couldn't stay awake for late night chats. But it was great catching up and being roomies like old times (bball trips). People used to call us the 'twin towers' in high school.
Katheryn's veil was the beautiful veil I've ever seen. It is very old dating back on her matron of honor's great grandparents I think.
The ring bearer was the cutest thing ever...
This was on the party bus headed to the reception after the ceremony. I appreciated them including me.
Being with high school friends made the weekend very special. I haven't done a good job keeping in touch with some. The band has to be one of the best bands I've ever experienced at a wedding making a very glorified high school dance. I just hated that Andrew couldn't be there to get to know them better. Jason was kind enough to get us rooms at the same hotel for the weekend--never a dull moment.
Jason dancing with his mom. I love her!
In hotel lobby before we headed to the ceremony.
When I saw Jennifer walking down the aisle to be seated for the mass, I immediately thought Princess Diana. It might be because she is on my mind from London but it was like I had seen a similar pic of Lady Di in a blue dress. When I told Jenn she said, "I bet Princess Diana didn't get her dress from Target." Loved it!
It was so good being with mom and dad too. Mom and I decided it's been the longest time that we've gone without seeing each other since I left for college. It was Feb. crazy!
My dad wore the Vineyard Vines bow-tie that the guys wore at the Connecticut wedding party. He is always so thoughtful about how he wears his bow-ties.
We danced the night away. I've never seen my dad dance so much in his life. It was awesome.
My Dad & John seem to be great friends these days. I'll call home and ask about his day to find out they've been playing golf together.
Wedding party cutting the cake. Ushers on the front left (to explain why more guys than girls). The wedding cake had beautiful flordelis on it too.
We were crazy about the groomsmen's cake. It was carrot cake actually and was to die for. Neat to have Drew Brees there too. I can't decide whose a bigger Saint's fan, Jason or mom. I might have to go with Jason on this one because he has had season tickets since I can remember.
Such a cute bridal pic in the Saints jersey catching the football. Kathryn played soccer in college and is real athletic herself.
My mom is so beautiful!
Dad's second son...
This was my first cajun wedding. Some of the customs and traditions are amazing. This was at the bridal luncheon where we all pulled a string that had a charm on the end where we were then read our fortune. It was a lot of fun.
Thanks Kat and Jason for including me in your festivities. I look forward to seeing you in Utah her shortly where we ski on real snow...