It's overwhelming trying to choose where to hike because there are so many great trails. The Larch Valley headed to the Sentinel Pass and Paradise Valley is ranked the top hike in Banff National Park. It was a 7.6 miler though round trip to Sentinial and 'very difficult.'
Moraine Lake is where the hike begun.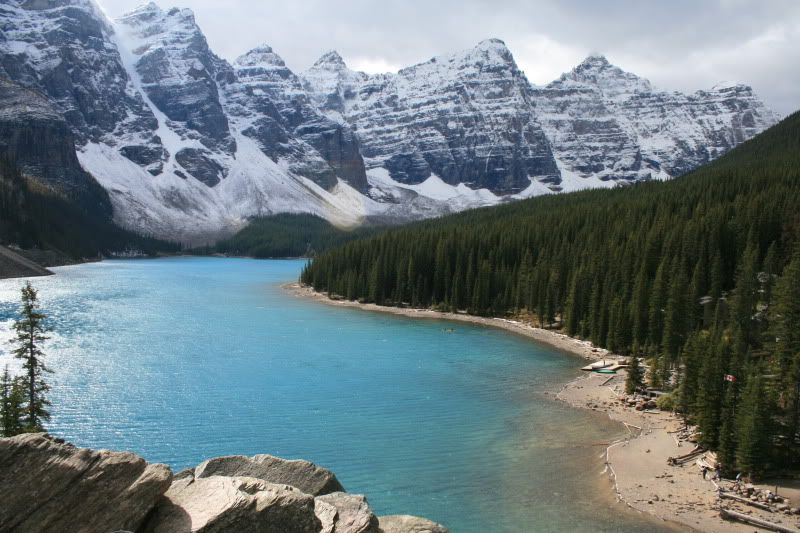 It's a Grizzly area so we had to have at least 4 people in our group to hike it. We waited at the trail head for over 30 min. waiting on people that we could hopefully tag along with. No one came. We ended up recruiting a guy From Denmark who had bought a bear tag to hunt black bear (sad) and the outfitter that was taking him out. They were planning on it being a 7 day hunt and it only took them 2 days so they had a few days to look around. They were in far better shape than my dad and I which made a tough hike even tougher.
After gaining 2,000 feet elevation in an hours time we leveled off at a valley of yellow pine needles where we could view 10 peaks over 11,000 ft. There were a couple peaks in the clouds but still so amazing. I kept thinking it was like seeing 10 Mt. Timpenogous in one view.
Our highest point was 8,700 ft elevation staggering the two valleys. I couldn't even stand on the rock though because it was too scary--must have been a sheer cliff of at least 300 ft. down the other side. I might be afraid of heights after all.
View from the top. The pic below was actually lifted off the internet. We didn't have the blue sky in our favor. And it was windy at the top we didn't hang out long for pics.
So proud of dad. It was not an easy hike by any means because it was so steep and he isn't used to any altitude and he did it.
Once we got done with the hike we perched and took in the view of the lake.