My mom was here with her mom 13 years ago. It is special to be doing some of the same things they did as mother-daughter too.


I really miss my husband and somtimes feel really bad about being apart like we are. But I quickly try to replace that longing with a grateful heart to be here with my mom. She is such a great travel buddy. She has typifies best traveler in the world--go with the flow, super active, tons of fun, crazy generous, she does her research, and knows her history. My sister explained it perfectly in a text the other day... We are so undeserving of such a wonderful mother.
(This is not a posse)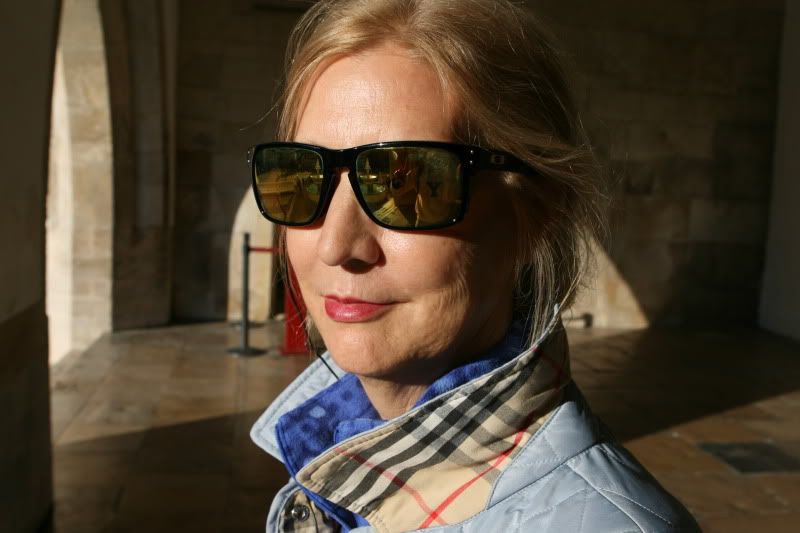 (This one is)

I´m distracted sometimes as I talked to mom and see myself in the reflection. It´s as clear as a mirror. Some Roman ruins in the background of Evora.


Beautiful ceramic tiles are everywhere. These are in an old 13th century palace. I saw some in a cathedral depecting the different signs of the cross. I´ve always facinated with how Catholic churches portrays their various signs of the cross--statues, wood carvings, paintings, frescos, and in this case, ceramic tiles. Although the Mormon church doesn´t pray to the various signs of the cross during Lent, I appreciated going over those things time and time again in grade school. These are bibical accounts we are all familar with and very grateful for.
In the Mormon church, you won´t find crosses hanging up in our churches. We most positively recognize and show our sincere appreciation of Christ´s suffering on the cross for our behalf. What an uncomprehendable act we will forever be indebted too. The reason we don´t hang crosses up or wear them is because we like to focus on the Ressurection of Christ. That he lives. And that Jesus is still the Christ, or Lord, Savior, and our Redeemer. Of course we recognize the cross in our whereabouts as a sign of Christianity. I find it a comforting sight as I travel to unfamiliar places. Mom has told me a couple times so far how much she loves the cross. I had to get her pic to remember the sweet conversation.